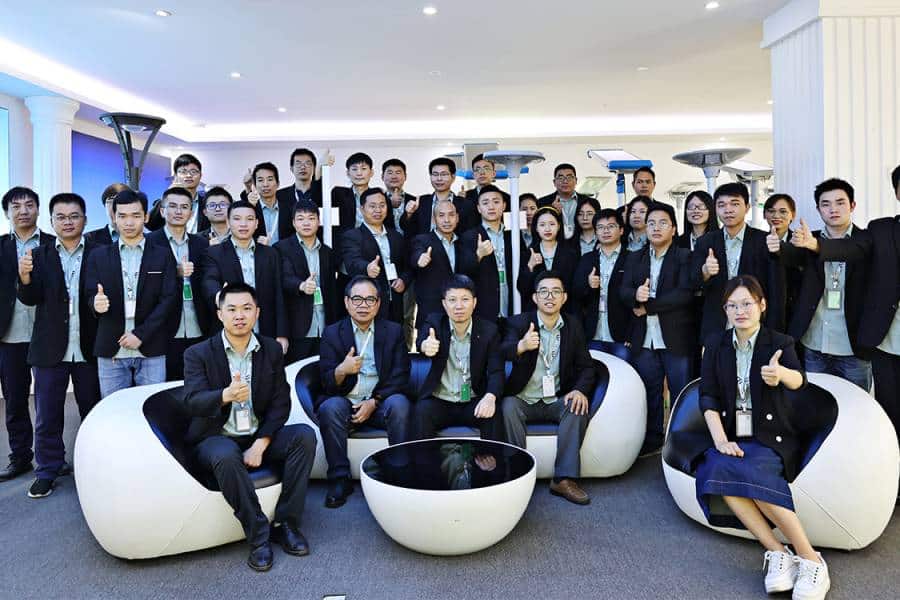 Since 2005, Shenzhen SRESKY Co., Ltd ODM and OEM solar street lights. We do business with many brands, so here is a rough ranking of many of our peers.
Solar street lights with a long lifespan can save a lot of costs, so it is very important to choose a trustworthy manufacturer.
Sresky  Although the company is small, the manufacturing of solar street lights is the most professional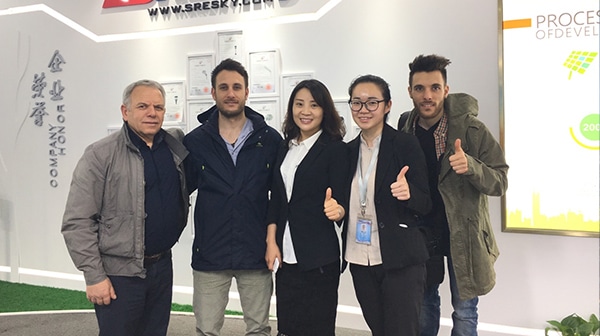 Shenzhen SRESKY is a professional solar light company founded in 2004.
Sresky's won the German Red Dot Award for its design. As a professional solar street lamp manufacturer, Sresky is the world's largest government procurement of solar street lamps, with the best research and development and production experience in the field of solar road lamps.
The company working hard to be a world-class brand in the renewable energy industry. And provides different solar products, such as smart solar street lights, garden lights, solar cameras, solar garden lights, multifunctional solar home systems and other solar products.
The company's industrial park has a production area of 30,000 square meters and over 300 senior technical workers, including 30 professional engineers.
As a professional manufacturer of solar lights, including appearance design and utility models, it has always been at the forefront of the industry.
Sresky's factories are certified for authenticity by SGS Group, Intertek, TüVRheinland and Alibaba Group:
Sresky SGS Group Assessment Report 
Verified By Intertek: Download 
Verified By TüVRheinland: Download 
Sresky solar street light factory video
Philips and Sresky had many of the same suppliers.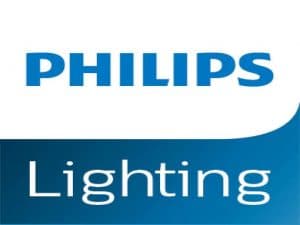 Philips Lighting was Founded in 1891.
The primary products are lighting, household electrical appliances, water purifiers, and medical systems.
Philips, founded in the Netherlands in 1891, mainly produces lighting, household appliances, and medical systems. Philips Electronics is one of the largest electronics brands in the world and tops the list in Europe. In 2007, the number of global employees reached 128,100, with production bases in 28 countries around the world, sales organizations in 150 countries, and 80,000 patents.
Philips is a comprehensive group that provides services to the professional market and consumer market through the following three intersecting departments: healthcare, lighting and quality life
PHILIPS solar lamp production capacity, output, output value, price and gross profit margin (2013-2019):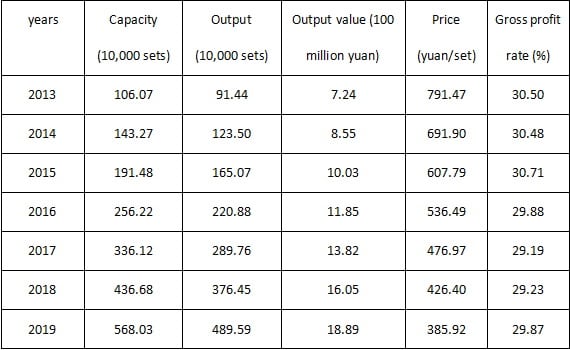 Philips The latest Solar street lights:
https://www.lighting.philips.com/main/prof/outdoor-luminaires/solar
Osram is in partnership with Sresky.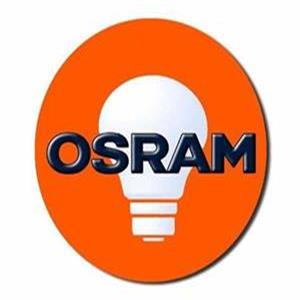 Osram Lighting Co., Ltd. found in Germany in 1906. It is a global operator of automotive lamps and automotive LED lights, and a supplier of lighting management systems and lighting solutions.
The company has over 110 years of brand history and several world-leading patents. Many world-renowned projects have chosen Osram's products and solutions.
Osram is at the forefront of the world's lighting industry, with its innovative lighting technology and solutions.
The brand of light beads used in SRESKY solar street lights is Osram.
Osram solar lamp production capacity, output, output value, price and gross profit margin (2013-2019):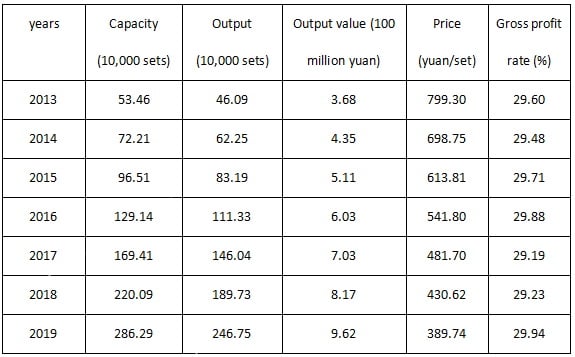 Panasonic
Sresky has a small partnership with Panasonic.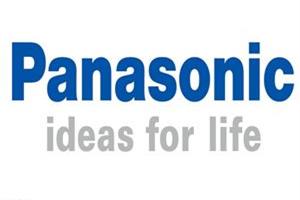 Founded in Japan in 1918, it is a large transnational electrical company in Japan and a world-renowned comprehensive electronics company.
It is also a world-renowned consumer electronics brand and a Fortune 500 company.
Panasonic Lighting widely uses computers to design light distribution, energy saving, service life, environmental adaptation and safety systems in the development of product technology. Strict quality control for each process and 100% inspection of finished products.
Use the world's advanced light intensity distribution measuring instrument to quickly and accurately measure the optical parameters of the light source and lamps and provide scientific data.
Relying on high-precision design, it has carried strict quality inspections out in each process to ensure the high quality of products
Panasonic solar lamp production capacity, output, output value, price and gross profit margin (2013-2019):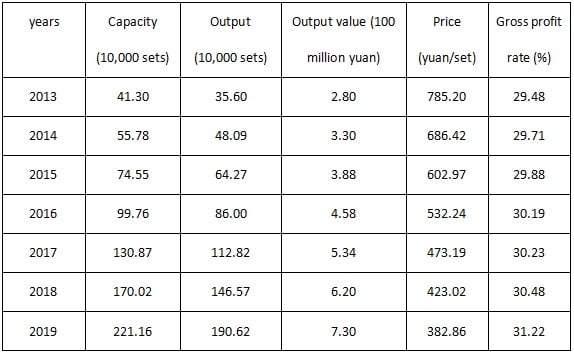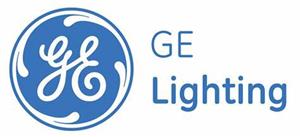 A well-known lighting brand started in the United States in 1890.
It is a world-class LED lighting system and solution provider, focusing on LED/light source/lamps and other products. Its outdoor lighting industry is very famous.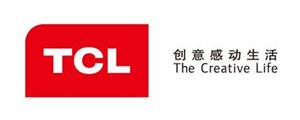 Founded in 1981, TCL Group Co., Ltd. is a well-known consumer electronics brand in China.
The company is a global intelligent product manufacturing and Internet application service enterprise integrating science, industry and trade.
It is a well-known enterprise in China's green energy-saving lighting industry, specializing in the development, production, sales and application design of lighting products.
Shenzhen Spark Optoelectronics Technology Co., Ltd. found in March 2000.
The company develops and produces LED street lights, LED tunnel lights, LED traffic lights, LED fluorescent lights and indoor LED commercial lighting fixtures.
Spark is one of the largest manufacturers, suppliers and exporters of solar Pv lighting and LED light. And a leading provider of integrated energy conservation solutions in China.
Rely on its strong R&D strength, professional technical team and rich experience in the optoelectronic industry. The company has always been at the forefront of the development of the industry since the establishment of the "SPARK" brand.
At present, Spark's market service network has covered over 150 countries and regions, such as Europe, America, Africa, Oceania, Southeast Asia, and the Middle East.
Huizhou NVC Optoelectronics Technology Co., Ltd., founded in 1998, is a well-known brand of lighting fixtures.
NVC was founded at the end of 1998 and has always insisted on independent innovation in product research and development. Committed to providing high-efficiency, energy-saving, healthy and comfortable lighting solutions for construction, transportation, urban lighting, industry and other fields. In 2017, the brand value of NVC Lighting was 20.685 billion yuan, ranking first in the lighting industry for 6 consecutive years. At the same time, it won first place in "2016 China's Top 100 LED Lighting Industry".
At present, NVC Lighting has 4 manufacturing bases, 2 international standardization R&D centres and nationally accredited laboratories, 38 operation centres, and more than 3,800 brand stores in China. Overseas, it has established product development centres that comply with European standards and established operating organizations in more than 40 countries and regions.
NVC solar lamp production capacity, output, output value, price and gross profit margin (2013-2019):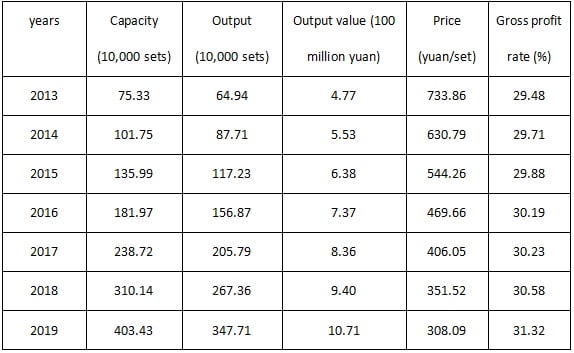 Foshan Electrical And Lighting Co., Ltd found in 1958.
FSL is always committed to developing, producing, and promoting green and energy-conserving lighting products. FSL has several production bases in Gaoming, Guangdong Province, Xinxiang, Henan Province, Nanning, Jiangsu Province, etc. A complete supply chain system from R&D, production, processing, and warehousing to logistics, enabling FSL to produce on a mass scale.
FSL production lines cover home-based lighting, commercial lighting, outdoor lighting, office lighting, and school lighting and sales networks penetrate through China. Moreover, 40% of FSL products are exported to over 120 countries and regions throughout the world. In recent years, FSL has been actively engaging new fields, namely, intelligent lighting and healthcare lighting. Taking innovative intelligent system solutions as the entry point, we have built an ecosystem of brands, platforms, and supply chain services.
Home Depot has a partnership with Sresky. There is a deep partnership.
Home Depot, Inc., commonly known as Home Depot, is the largest home improvement retailer in the United States, supplying tools, construction products, appliances, and services.
Home Depot lighting mainly sells indoor wall lights, outdoor solar garden lights, landscape lights, and solar pathway lights. Wide variety of lamps, more choices available.
Op Lighting
Op Lighting is an innovative and fast-growing company founded in August 1996. It is a globalized lighting company integrating R&D, production and sales. There are more than 5,000 employees. The products cover the fields of home furnishing, commercial lighting, electrical engineering, light source, etc. The main products of energy-saving lamps, ceiling lamps, brackets, downlights, LED lighting and other series of products have a leading domestic market share.
After fifteen years of development, OP Lighting has the industry's leading production lines for energy-saving lamps, ceiling lamps and other products, as well as a research and development centre with complete facilities, advanced technology and elites. And it has established the most complete professional laboratory in the industry such as EMC and distributed luminosity and has a professional technical team composed of hundreds of outstanding talents led by industry top experts and senior engineers.
Op Lighting solar lamp production capacity, output, output value, price and gross profit margin (2013-2019):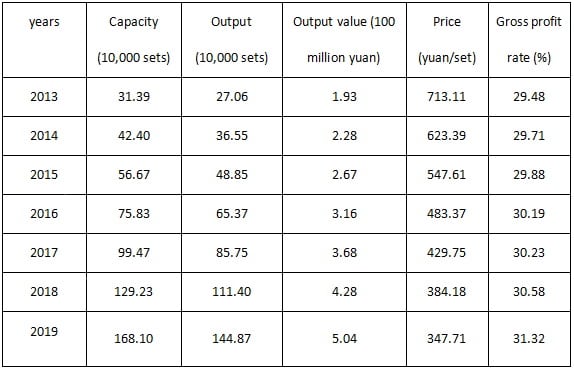 Sanxiong Aurora
The full name of "Sanxiong Aurora" is "Guangdong Sanxiong Aurora Lighting Co., Ltd." Since its establishment, the company has been committed to the research and development, production and promotion of high-quality green lighting products, providing customers with a full range of lighting solutions and professional services. One of the lighting brands with comprehensive competitiveness.
Over the years, Sanxiong Jiguang has always implemented a rigorous quality control system, and passed ISO14001: 2004 environmental management system certification, ISO9001 international quality system certification, energy saving certification, 3C certification, CE, VDE, TUV and other certifications."
Sanxiong Aurora has a sound sales network and service system. It has established resident offices in more than 60 large and medium-sized cities in China, with more than 3,000 sales terminals, and sales and service outlets all over the country. At the same time, the company actively expands emerging e-commerce businesses. Customers can enjoy professional services in terms of product selection, lighting design, technical consultation, installation and maintenance, and product after-sales service.
Sanxiong Aurora solar lamp production capacity, output, output value, price and gross profit margin (2013-2019):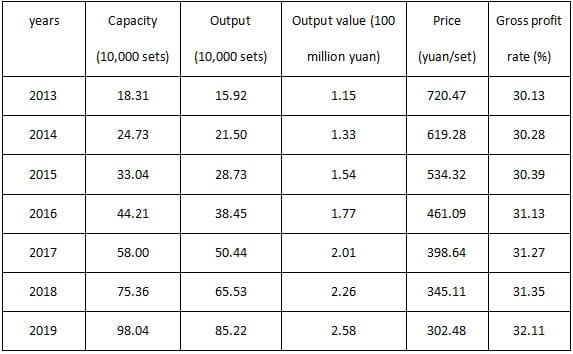 liaoyuan
Liaoyuan Group found in 1984, is becoming an international well-known outdoor lighting and special steel pole production enterprise.
And involved in lighting, power distribution, communication, fresh energy and other fields.
The company covers an area of 236,000 square meters and owns 800 staff, including over 500 technical people.
And mainly produces and sells high-power LED street lights, high bay lights, explosion-proof lights,500 watts flood lights, tunnel lights, garden lights, landscape, power pole, communication poles,4-pipe towers and other products.
The company has formed a relatively complete product system. Liaoyuan has an annual production capability of 700,000 sets of chief power green lights.
Liaoyuan customers are in over 70 countries and regions of the world after nearly 30 years of industry accumulation.
DEL
DEL was founded in 2010. Refers to outdoor LED lighting from 2013 to 2015, and switches to solar LED lighting from 2015 until now.
Provide Light Design Service, ODM Customize Service and OEM Service.
It is the leading R&D center of LED in the world. Their Germany team has 10 years of experience in sales and marketing of solar and LED lighting.
Kingsun
Kingsun found in 1993 and started production of low-power and medium-power LEDs in 1998.
Began R&D and production of high-power LED lighting products in 2004 and achieved mass production of high-power LED lighting products in 2007.
Kingsun was the first publicly listed company with high-power LED lighting as its principal business worldwide.
The company is a leading supplier of LED lighting application solutions focusing on outdoor, indoor and low profile solar landscape lighting and LED smart lighting and LED display.
Unilumin
Unilumin was founded in 2004 and successfully listed in 2011.
Unilumin technology is a high-tech enterprise integrating LED product R&D, manufacturing, sales and service.
Its current principal business includes two series of LED high definition energy-saving full-colour displays and LED energy-saving lighting.
The company to provide customers with high quality, high performance LED application products and services based on the vision of "showing a glorious world, lighting a happy life".
Yaming
Shanghai Yaming Lighting Co., Ltd. found in 1923. It is China's first national lighting company and the first light bulb manufacturer in China.
After a hundred years, Yaming has developed into a lighting company integrating R&D, manufacturing, marketing and engineering services.
The company's products have expanded from traditional lighting products to LED lighting products. From providing customers with lighting products such as light sources, electrical appliances to providing customers with overall lighting solutions.
Yaming has developed into a leading enterprise in the lighting industry.
Huati
Huati found in 1991, covers an area of over 200 acres and has over 600 employees.
The company's professional strength products are street lights, garden lights, landscape lights, LEDs with more than a thousand varieties.
After nearly 20 years of development, the company's assets are over 100 million yuan.
The company has strong scientific research and development capabilities, and has applied for and got several national patent technologies.
Huati maintains strategic partnerships with American General Motors, Tianjin Slade, German Siemens (OSRAM), and German VS.
HUAYI
HUAYI Found in 1986, a well-known brand of lighting and comprehensive lighting brand in the industry.
It is one of the largest lighting industry bases in China, with lighting and lighting as the major industry, integrating property, investment, and trade Modern enterprise group.
The company's lighting products include crystal lamp series, resin lamp series, iron lamp series, modern lamp series, fibre optic lamp series, chandeliers, etc.
Entering the new century, the company's annual sales have reached a new high, with annual sales of over $150 million.
Its comprehensive competitiveness ranks at the forefront of China's lighting industry.
High class
High-class Lighting Co., Ltd. found in 2009. It is a diversified professional outdoor lighting enterprise integrating driver R&D, chip packaging, lamp production and sales.
At present, its main production is smart street lamps, floodlights, explosion-proof lights, industrial and mining lights, LED solar series Garden lights, pillar lights, buried lights, lawn lights, wall lights, tunnel lights, high pole lights, landscape lights, road lights and related accessories. To provide a one-stop overall solution for LED lighting engineering.
The company has successively signed contracts with Islamabad, the Chinese Academy of Sciences, Cree, and OSRAM to become strategic partners.
That's it for the ranking of the best solar street light manufacturers. If you are interested in our products or have questions about solar street lights, please contact us.
About us :
Sresky led solar street light manufacturer